I'm so happy to be here with Tonya for my paperback release blog tour! I've got some cool things to share with you, including the first chapter you can read below and an international Goodreads giveaway– and a kissing scene! Plus, I'm doing a review giveaway– if you've read How We Fall and post a review of it (whether or not you liked it) on Amazon AND Barnes & Noble on or before Nov 7, you'll be entered in a drawing for books and a $20 B&N giftcard! More details about that here. Keep reading for all the goodies below!
About the book:
Ever since Jackie moved to her uncle's sleepy farming town, she's been flirting way too much–and with her own cousin, Marcus.
Her friendship with him has turned into something she can't control, and he's the reason Jackie lost track of her best friend, Ellie, who left for…no one knows where. Now Ellie has been missing for months, and the police, fearing the worst, are searching for her body. Swamped with guilt and the knowledge that acting on her love for Marcus would tear their families apart, Jackie pushes her cousin away. The plan is to fall out of love, and, just as she hoped he would, Marcus falls for the new girl in town. But something isn't right about this stranger, and Jackie's suspicions about the new girl's secrets only drive the wedge deeper between Jackie and Marcus.
Then Marcus is forced to pay the price for someone else's lies as the mystery around Ellie's disappearance starts to become horribly clear. Jackie has to face terrible choices. Can she leave her first love behind, and can she go on living with the fact that she failed her best friend?
Praise for How We Fall:
2015 Silver Falchion Best YA Novel finalist- Killer Nashville
Kirkus Reviews: "Debut novelist Brauning tells a touching story of young, star-crossed lovers caught in a drama they have tried hard to avoid…. A sweetly written mix of mystery and romantic turmoil."
School Library Journal: "Heartbreaking and well-paced, this mystery novel challenges readers to look past preconceptions and get to the know characters, rather than focus on an uncomfortable taboo. Brauning's characters are well developed and their story engrossing. An intriguing thriller… this title will raise eyebrows and capture the interest of teens."
ALA Booklist: "…an unusual combination of romance and suspense…There is also something universal about Jackie's struggles with her feelings and her desires, and readers will identify with her emotions, while going along for the plot's ride. This quest for identity, wrapped up in an intriguing mystery, hooks from the beginning."
Read the first chapter!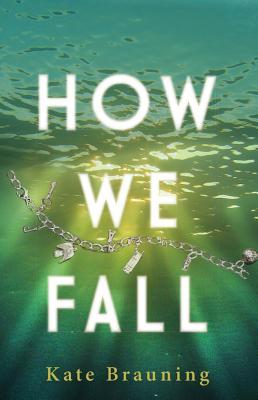 https://www.goodreads.com/giveaway/widget/160443
Excerpt:
~
The night was almost as oppressively airless as the day. I couldn't sleep, so I watched Rear Window. Jimmy Stewart made the humidity almost bearable, but I'd forgotten how creepy the movie was. Or maybe it was just the dark and the accident making me jumpy.
After the credits rolled, it was still too hot to sleep. I laid there dozing and waking for an hour, but my fan made little difference so I gathered up my blanket and went out to the living room.
I still hadn't talked to Marcus. Hadn't told him whatever we had needed to be over.
The living room was always a bit cooler because it was the room furthest back in the hill. I curled up on the couch, mostly hugging the blanket because it was too hot to cover up with it.
My phone buzzed.
Still up?
My phone glowed blue in the dark. He knew me too well. In the living room. Hot as Hades.
The stairs creaked a moment later as he tip-toed down. He wasn't wearing a shirt, just basketball shorts. Way to make this harder, Marcus. He flopped down onto the couch.
"I don't know how everyone else is sleeping," I said.
"Maybe they all passed out."
Marcus's hair was damp and his face was sweaty. "Eww," I mumbled, pulling my feet closer to me. "You're gross."
"Yeah, well, heat rises. Upstairs is a freaking sauna." We lapsed into cranky silence.
Finally Marcus turned toward me and said, "Sylvia's been texting me a lot."
"Yeah." Believe me, I'd noticed.
"You want to go swimming?" Apparently he was done talking about Sylvia. Fine with me.
Cool water. The night breeze. "More than anything." I rolled off the couch and went back to my room to dig through my drawer. After hesitating, I pulled on my skimpiest swimsuit, a green string bikini with tiny white dots, and then my T-shirt.
I grabbed two beach towels from the bathroom and met him in the living room. We left the house as quietly as possible, and Marcus turned on a flashlight a hundred yards from the house. The creek cut across the back of our ten acres. It wasn't a very wide creek, but it had deep spots.
Running through the grass with Marcus felt so familiar I could hardly bring myself to remember that there wouldn't be a good way to explain this if anyone woke up and found both of us gone in the middle of the night. The adrenaline and expectation made me forget Claire and Aunt Shelly and anything but the good parts of us.
We were even sweatier by the time we got to the creek, but the water was right there. I pulled off my t-shirt and jumped into the creek, the shock of cold water an instant relief from the miserable heat.
Marcus dove in beside me and came up grinning. He'd jumped in wearing his basketball shorts. "A bikini? Not skinny dipping? No fair."
"Yeah, well, take what you can get." I splashed him, coming close enough he could almost touch me.
"Oh really. Take what I can get?" He lunged and grabbed my legs, pulling me under. I came up gasping. I yelled and sputtered while I pulled my dripping hair out of my face, but he pushed me up against the bank, muddy and root-covered as it was, and kissed me.
I was going to tell him it was over. I wasn't even going to tell him I'd found out I loved him, because him knowing that might make it worse.
His skin burned warm against mine in the dark water. I could hardly see through the water streaming from my hair but I kissed him back, wrapping my arms around his neck and pulling him closer.
His mouth was tight and demanding. This was not the slow, patient kiss from our picnic. Every muscle in his body tensed and his hands trembled where they touched my face.
He knew.
He shuddered and pulled away, just an inch. He leaned his forehead on mine. "You know, you're not as different as you think you are."
I leaned my forehead on his chest, feeling his harsh breathing and hearing his trip-hammer heartbeat. Claire said I would move on, but I couldn't move on from this.
Marcus wrapped his arms around me and in all the heat and cold water I barely noticed my own hands shaking.
He pulled away to look at me, but I shook my head and his body came back, his lips back to mine. We stood together in the creek while the black water whirled downstream away from us.
~
How We Fall is available through:
Author Bio:
Kate Brauning grew up in rural Missouri and fell in love with young adult books in college. She now works in publishing and pursues her lifelong dream of telling stories she'd want to read. This is her first novel. Visit her online at http://www.katebrauning.com or on Twitter at @KateBrauning.